Email Us By Clicking on the Icon Above
Call Us: 860.830.2248

STAFF EMAIL

Norm's Guitar Repair Shop Service
Guitar and Bass Guitar Repair
Repair, Restoration, Fret work, Precision Setup,
Acoustic and
Electric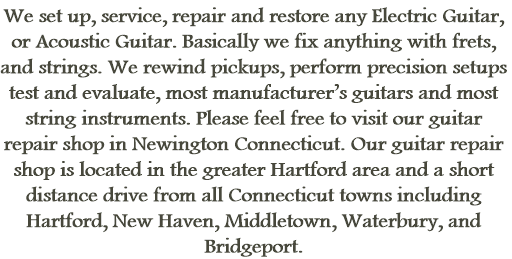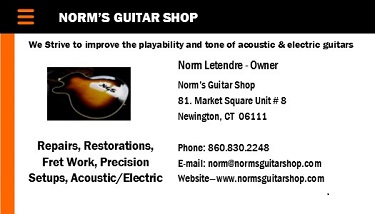 CLICK HERE TO PRINT MY BUSINESS CARD
We are an Authorized Dealer for K & K Sound. The Acoustic PickUp Authority
My Mission is to strive to improve the playability and tone of electric and acoustic guitars by providing the most accurate set-up and alignment possible while considering the playing styles and requirements of each player.
We set up, service, repair and restore any Electric Guitar,
or Acoustic Guitar. Basically we fix anything with frets,
and strings. We rewind pickups, perform precision setup, test and
evaluate, most manufacturer's guitars and most string instruments.
Please feel free to visit our guitar repair shop in Newington Connecticut
. Our guitar repair shop is located in Hartford County and a short distance drive from all Connecticut towns including Hartford, New Haven, Middletown, Waterbury, and Bridgeport.